As per Section 6(1) of the RTI Act "A person, who desires to obtain any information under this Act, shall make a request in writing or through electronic means in English or Hindi in the official language of the area in which the application is being made, accompanying such fee as may be prescribed".

The University Grants Commission of India (UGC India) is a statutory body set up by the Indian Union government in accordance to the UGC Act 1956 under Ministry of Human Resource Development, and is charged with coordination, determination and maintenance of standards of higher education. It provides recognition to universities in India, and disbursements of funds to such recognized universities and colleges.
In this case UGC being a Public Authority is bound to provide Information to the Students or the Parents to clarify their doubts.
Reasons behind filing RTI to UGC:-
Getting Data or Information from UGC regarding Answer Key.
Getting Data or Information from UGC regarding Marksheet.
Whether the Concerned University is UGC recognized or not?
Clarification of the genuine academic doubts.
Who can ask for the Information?
Any concerned students  or parents who is a citizen of India can file an RTI application, He can go for filing an RTI at any point in time whenever he wants to seek any information regarding any government organization, or its any ongoing program, any public authority.
Where to submit the RTI?
The Policy of UGC must be providing clarifications for such genuine academic doubts. As per Sec- 2(f), it leaves student community in confusion regarding validity of a course. Not informing the validity of a course amounts to abdication of their duty to inform, as that duty was prescribed by the statute and that is the basic function. Therefore, the RTI must be submitted to UGC directly and the UGC must reply to the RTI within the stipulated time period.
How to file Online RTI Application to UGC?
Filing RTI Online is the latest trend in today's world, as we believe in quality work within our best comfort. Online RTI Application is very useful and this is the easiest and quickest way. You need a computer connected with Internet. Filing RTI alone may be difficult, in this case you will get an extra benefit, i.e our RTI Experts will draft the RTI Application on behalf of you and they will help you with the process and the exact Public Authority where to file your concerned issue.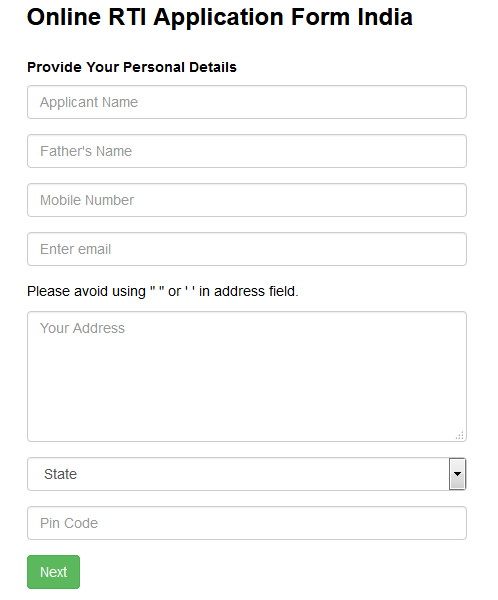 Steps to file Online RTI Application are as follows:-
Step 1: Firstly, you need to visit the website. Click on the link to register.
Step 2: You need to fill the form which states your details.
Step 3: Click "Next" at the below.
Step 4: Now you have to fill the details regarding your query at the description box.
Step 5: Below that if you want you can fill the "Where to File" (optional).
Step 6: Once done, click next and submit your Form.
What is the Payment Method for RTI?
Once every formality is done and prescribed Application is filed to the Public Authority then finally the payment procedure comes into picture for filing the RTI Application. Thus, send your application with the fee attached to the concerned PIO/APIO. The concerned Authority must reply within 30 days of filing the application.
In case of Online Filing of RTI Applications/First Appeals one can visit to Website and file RTI by following the process step by step. Through this you can file RTI to all ministries/Departments and few other Public Authorities of Central, State Government and in District, Panchayat and Mandal Level also. For filing an RTI application, this company/website charges only Rs.399/-+GST for filing an RTI Application. The process is very simple, after filing, one can track his RTI Application and get the reply within the stipulated time period. Here, you can complete Online Payment in a secured way.
If you don't get reply of an RTI what will be the next remedy. The applicant can Appeal and file First Appeal.