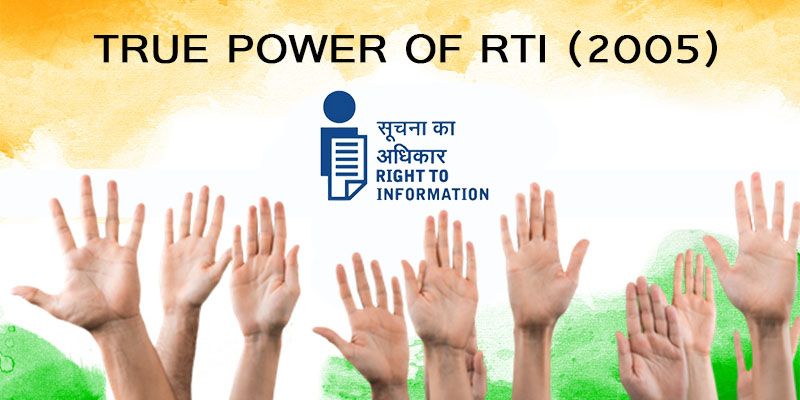 A Guide for Novices about Right to Information
Right to Information Act is also known as 'RTI'. It basically aims to eradicate the unawareness of the rights that the citizens possess. It is aimed at endorsing transparency and liability in the governmental institutions of the country.
It is a revolutionary act because the act gives the power to the common man to scrutinize government officials. Due to lack of awareness, many people stay away from practising their rights. Even today, there are villagers, farmers, women, children and workers, who are unaware of their rights.
RTI bestows the common man with the power to ask for documented proof of all the governmental procedures. You have the right to seek information and know why and what happened. You have the right to know HOW it happened.
The organization are bound to get back to you with an apt answer in response to your RTI within 30 days.
The Inception of RTI
The journey began in the year 2005, and since then not many people are fully aware of their rights. The Legislation of Parliament of India created this act in June 2005. Finally, the same year, on 12th October 2005, it was implemented in full force. Crores of citizens in the country had access to this act and even today, they are free to file a complaint or ask for information. The Indian Government is answerable to its citizens! Without providing the information about supporting documents, the citizens will never come to know whether they were wronged purposefully or if it was their fault.
What you need to know about RTI
RTI was brought about by the Government to address issues of the people. The act is people-centric and it does not believe in biases towards the higher authority or a financially and politically strong entity. Since it is made for the people, you will find that illiterate individuals can also file an RTI with simple and easy processes. The illiterate individual can seek help from the PIO. They will write their issue and read it out loud to them before submitting the RTI. This is a people-friendly approach and is an attempt to include the poverty-ridden people under this revolutionary act. Going to a PIO or posting the application via post office could be full of hassles. Thanks to technology that now you can file an RTI online. Our platform is the right place because we allow you how to file rti application online In India?
How to file RTI Application Online In India?
In today's world, everyone owns a smartphone and opening a website is easy.
Open the website on your phone and fill the RTI form.
We believe in the common man's voice. We ensure that the voice should be heard by the Government in a proper and legitimate manner. The platform charges a nominal fee which is payable online.
It takes less than 5 minutes to file an RTI on our platform. Filing an RTI is your basic right! Whether the involved party is a passport officer, MLA, income-tax department, your colleague, road transport authority you can easily file an RTI. Even government-owned companies can be challenged.
Whatever is crossing your mind and bothering you for days, speak up through an RTI! This is your right and you must utilize it.